If you plan on selling a Hudson WI or Western WI luxury home you should be looking for the best qualified Realtor®. Find the very best ranked Realtor® to market and sell your home should you want to sell it for the very best price and terms. Subsequently, you should first be looking for an agent who has specialized luxury marketing training with a designation called Certified Luxury Home Marketing Specialist (CLHMS).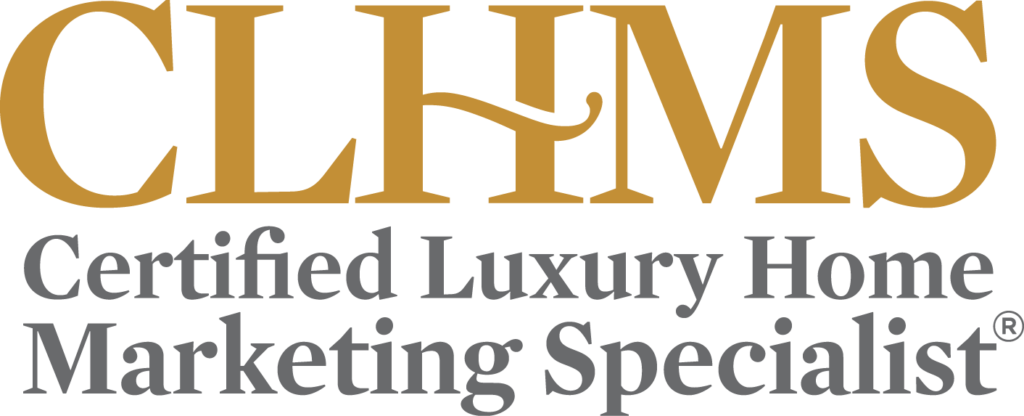 John and Becky Durham are the only Realtor® who live and work in Western WI who have gone through extra training and earned a CLHMS designation. Additionally, John and Becky have been recognized and earned a highly desirable top 1% national marketing awards from esteemed real estate organizations such as Realtor.com and Trulia/Zillow. Our specialized luxury marketing training and hands-on luxury home experiences provide advanced marketing and negotiation strategies to get you the best price and terms when you buy or sell a luxury home. There are many key factors that go into being able to sell your luxury home for more. However, it starts with having a high-tech comprehensive luxury marketing plan combined with a Realtor® who is a 'master negotiator' who fully represents clients in all aspects of a transaction. A Realtor® who prudently invests the time to research and learn every aspect of your communities current real estate market conditions (Troy Burne Golf Village, Hudson, River Falls, and Western Wisconsin). A Realtor® with this kind of training, experience, and successes will positively enhance your ability to market and sell your luxury home in the manner necessary to obtain the best pricing and terms.
John and Becky Durham offer industry-leading, high-tech Wisconsin luxury home marketing that puts your home ahead of the competition:
• 3D dollhouse virtual reality immersive luxury home tour
• 360˚ photography of your property outside your home
• Floor plan graphic – we create an actual floor plan of your whole home
• Twilight/dusk photography for a high-end look
• Aerial photography
• Custom website dedicated to your WI luxury home, with your address as the URL
• Complimentary luxury home staging with hi-tech virtual staging options
• Engaging multi-platform online marketing, with your WI luxury home featured on over 900 real estate websites, social media and blogging campaigns
• In-house graphic designer/digital luxury marketing expert on staff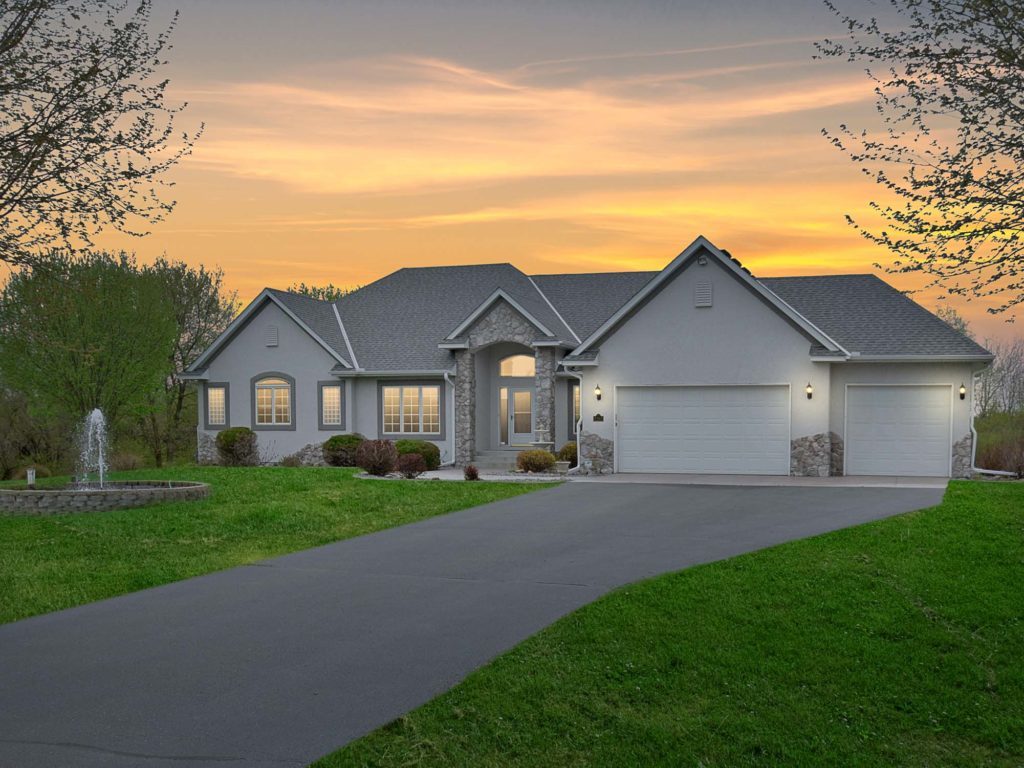 Superior luxury marketing service = higher sale price
All our clients receive our best service, regardless of list price. Often customers with non-luxury homes for sale think either their home is not worthy of our luxury marketing services, or that our commission will exceed their budget for the quality services we provide. Not true! We offer you significantly more real estate services for the same commission as other real estate agents charge only we provide significantly more real estate expertise. We create a customized marketing plan for each client, tailored to your needs and your goals. We give our promises to you in writing, so you can feel confident you are receiving the very best services available. Browse our website more to search for homes and learn more about our comprehensive Wisconsin luxury home real estate marketing.
John and Becky Durham are top-selling, award-winning REALTORS® licensed in both MN & WI. We serve the communities of Western WI and Eastern MN including Troy Burne Golf Village, Hudson, River Falls, New Richmond, Woodbury, Afton, Bayport, Cottage Grove, Grant, Lake Elmo, Mahtomedi, Oakdale, Stillwater, and West Lakeland. As a husband and wife real estate team, they work together side-by-side with each client, meaning you get two agents for the price of one. John and Becky are always working for you to ensure you receive the very best representation in your real estate transactions!
Compare John and Becky against other Western WI REALTORS® to see why they are considered one of the best REALTORS® in all of Western Wisconsin:
We are a married husband and wife real estate team that work together with every real estate client. Basically, when a client hires us they are receiving the 'power of 2 Realtors®' for the price of one Realtor®.
At the Durham Executive Group we consider ourselves 'boutique' Realtors® because we work exclusively with our clients from the very beginning throughout the transaction all the way past the sale to the closing. There is no bait and switch! We do not have a large real estate team with multiple real estate agents (including buyer agents) and once you sign a contract are handed off to another agent, or to a clerical employee serving as your transaction coordinator.
We do not use transaction coordinators to process all the legal documents in a transaction. John and Becky look out for our clients, therefore we handle every aspect of a transaction ourselves because there is so much riding on negotiations with significant legal implications in contract paperwork.
When interviewing do you even ask Realtors® for a resume to see what their past work and school history shows? With such important financial implications of buying or selling a home having educated and highly qualified Realtors® representing you is imperative.

John has nearly 18-years of continuous Realtor® experience.
John is a licensed Broker (requires higher level of education and passing of exams than a Realtor®) in both WI and MN.
John is a Certified Luxury Home Marketing Specialist (CLHMS) which specializes in luxury home marketing.
Becky has been a licensed Realtor® for nearly 18-years.
Becky is a licensed Realtor® in both WI and MN
Becky is a Seniors Real Estate Specialist (SRES) working with the aging population.
Becky is a certified professional staging professional (CSP)
Becky has an undergraduate Education degree and has teaching experience.
Becky has a Masters degree in Counseling and has worked with thousands of college and graduate students.
Becky has been a professional real estate agent recruiter
Becky has been a professional consultant
Becky routinely trains nearly 1,200 RE/MAX Results real estate agents on how to be more productive and successful
John has a Building Construction 2-year degree that benefits clients purchasing a home or who might be working with a home builder
John has an undergraduate Education degree and teaching experience.
John has a Masters degree in Risk/Safety Management
John has worked as an Engineer at a 3M facility
John has managed a 3M medical department, hazardous waste department, industrial hygiene department, workers compensation department, and a safety department.
John has been in various management positions in business and industry in multiple fields including having been a Vice-President at several downtown MPLS/St. Paul businesses.
John has owned and operated his own national consultant business for 10-years
John has been a professional real estate agent recruiter
John has been a trainer for hundreds of businesses and their employees
As the Durham Executive Group of RE/MAX Results we are very confidant our skill set and qualifications will best serve you in the selling or purchasing of any luxury home or unique property in Western WI or Eastern MN.
Contact John and Becky to learn more about their comprehensive real estate services: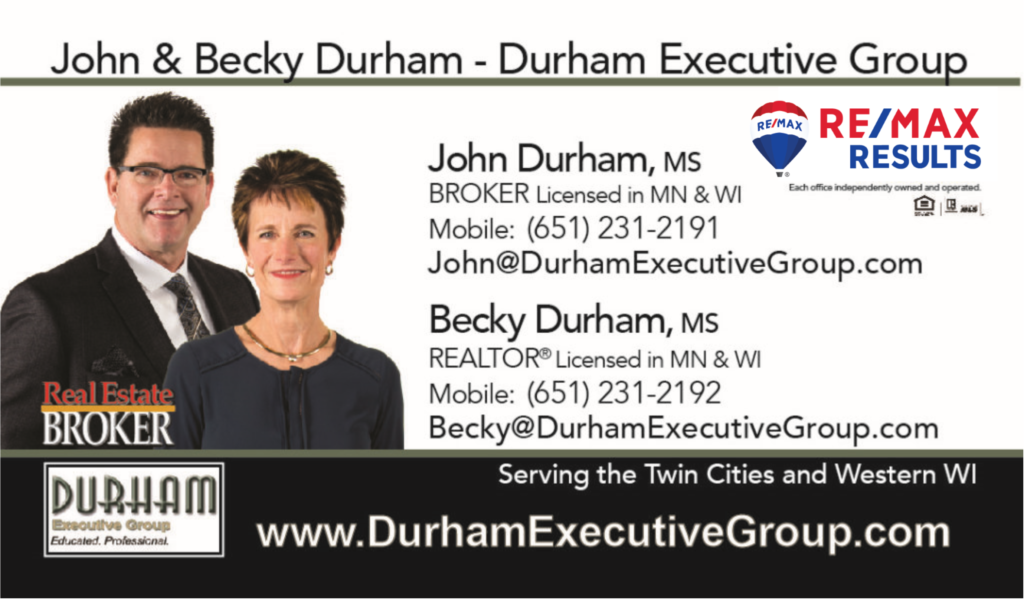 Twitter: https://twitter.com/group_durham