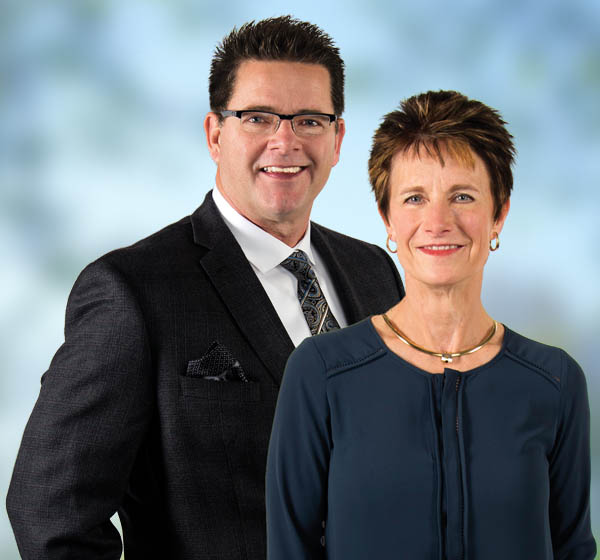 Get to know
John & Becky Durham
HONESTY. INTEGRITY. DEDICATION
As a husband and wife team with nearly 40-years of combined experience, we offer our clients more comprehensive real estate services than other agents. On every transaction, we work together, listening to you, so we can help you achieve your real estate goals. With our team approach, we work together with our clients to ensure they receive the highest quality real estate services available. Together we enjoy working with clients in all price ranges and in all stages of life. It doesn't need to cost more to work with the best Realtors® in your community. We provide comprehensive real estate services on both sides of the St. Croix River Valley.
John and Becky offer exceptional real estate services at competitive service fees. Working together we collectively bring different skills sets to work for you. With advanced training, John is a licensed broker in WI and MN. As a Certified Luxury Home Marketing Specialist (CLHMS), John has vast knowledge in luxury marketing of homes. Communication skills, market analysis, luxury marketing, and negotiating complex transactions are some of John's strengths. Becky is an Accredited Staging Professional and offers her staging expertise to all our selling clients. Becky is an accredited Seniors Real Estate Specialist (SRES), with advanced training and experience working with the aging population.

Licensed Realtors® in WI and MN. We office out of both the RE/MAX Results Hudson WI (375 Stageline Road, Suite 200) office, and the RE/MAX Results Woodbury MN (604 Bielenberg Drive) office.
We are committed to upholding the highest ethical standards of our profession. To this end, we put our promises to you in writing with our Blue Ribbon Pledge. As top selling and marketing producers for RE/MAX Results, we have earned many RE/MAX, and national performance-based awards. Awards include for our sales achievements and our exceptional marketing of client properties. In every transaction we put our clients interests ahead of our own focusing on getting our clients the best price and terms in the sale or purchase of a home.
We cannot stress this enough but All our clients receive our best service, regardless of list price or sale price.
At times, customers researching us with non-luxury homes for sale falsely assume their home is not worthy of our luxury marketing services. Otherwise, will assume our commission will exceed their budget for the quality services we provide. Not true! Simply, we offer you significantly more real estate services and expertise for the same commission as other real estate agents charge. We create a customized marketing plan for each client, tailored to your needs and your goals. We give our promises to you in writing, so you can feel confident you are receiving the very best services available. Browse our website to search for homes and learn more about our comprehensive luxury home real estate marketing.
As successful Realtors® we have also been school teachers, business owners, trainers in business, and business consultants.
John and Becky are also trade show event managers putting on real estate related Boomers & Seniors Expo's in both Hudson, WI and Woodbury MN.
We specialize working with boomers and seniors and help them to decide whether to age in place or if it is time to transition and rightsize to a new home.
It doesn't have to cost more to work with experienced, dedicated real estate agents! Before you decide to sell or purchase a home in Western WI, or Eastern MN, call us at 651-231-2191. There is no obligation to meet with us. Setting down with us and meeting face-to-face provides you an opportunity to learn more about us and how we can help you best buy, or sell a home.

In addition to being passionate about real estate John is a fused glass artist.