Stillwater, MN home sellers and buyers want to be informed and updated regarding community housing market statistics.
John and Becky Durham of the Durham Executive Group – RE/MAX Results are the Stillwater, MN Realtor® experts keeping you informed about the current state of the Stillwater housing market. As a FREE service without commitment, John and Becky provide StillwaterMNHomeValues.com for anyone to put in the home address which provides you an instantaneous home value of the home. To obtain the most accurate and up-to-date home value contact John and Becky Durham for a home visit to perform a thorough home market analysis.
The market is looking good for homeowners who want to sell their Stillwater MN homes. Get all the news here with John & Becky Durham's most recent Stillwater, MN real estate market statistics update:
If you are considering listing your Stillwater, MN home for sale, you need skilled and experienced Realtor® who will price it right. Asking too little will leave money on the table. Asking too much means your house may linger while other homes sell. Check out this Stillwater home where several previous real estate agents were not able to sell but John and Becky were successful selling the home using their luxury marketing skills and many technical talents. Upper bracket homes are spending more time on the market and require an agent with more skill, experience, and technology. John is a Certified Luxury Home Marketing Specialist and Becky is an accredited home stager, offering their expertise in these areas to all their clients at the average industry commission rate.
Stillwater, MN Home Buyers:
If you are a home buyer in Stillwater, MN, you should require a knowledgeable and experienced buyer's agent who is available to show you homes the day they hit the market, and can help you submit a well written offer that gets accepted. When entering a Buyer Representation contract with John and Becky you hire not just one very experienced and successful Realtor® but two Realtors® allowing us a greater opportunity to get you into see that home quicker before there are multiple offers. Click HERE to search the MLS for homes and sign up for instant email alerts when a home that meets your desired criteria hits the market. When you see a home you like, let John and Becky know and they will schedule a showing for you!
Why should you choose John and Becky Durham as your Stillwater, MN Realtors?
We have lived in Stillwater and Bayport for many years including up and down the St. Croix River Valley on both sides of the river. We know and understand Stillwater and the surrounding area and in fact our daughter was born right at Lakeview Memorial hospital. As your neighbors, John and Becky have lived in and nearby Stillwater for nearly 40-years and have gotten to know many of you in the area. John and Becky offer services most real estate agents cannot provide including expert negotiation and communication skills, as well as specializing in luxury real estate marketing with the Certified Luxury Home Marketing Specialization (CLHMS™).
Looking for even more info? We offer FREE Stillwater Housing Market Reports!
Sign up here for FREE monthly market reports delivered directly to your inbox and stay on top of changes in the Stillwater, MN real estate market.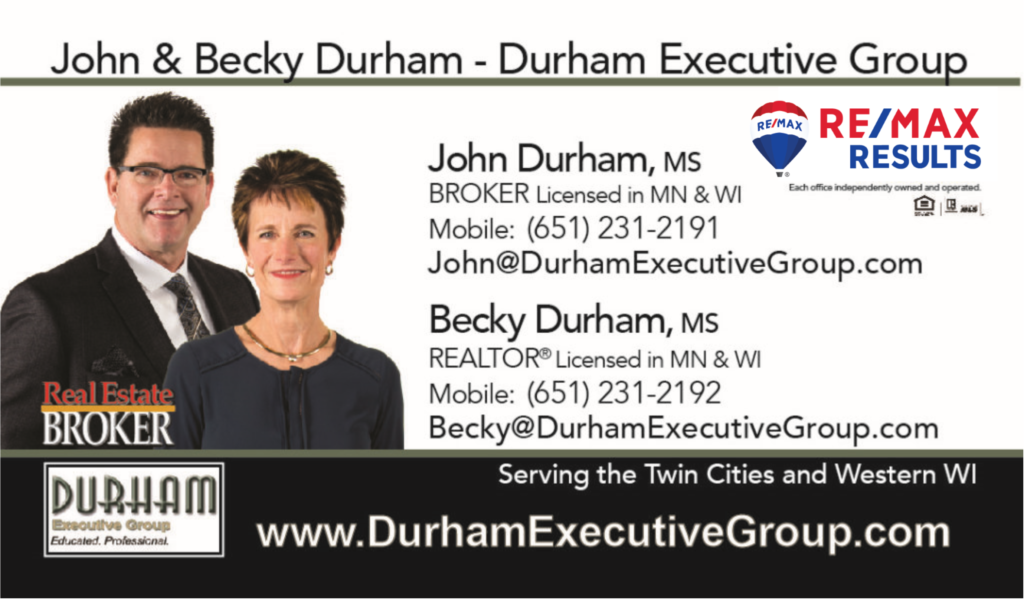 Email Us Today: john@durhamexecutivegroup.com
Website: www.durhamexecutivegroup.com
Phone: (651) 231-2191
———-
Follow Us!
Facebook: https://www.facebook.com/DurhamExecutiveGroup/
Instagram: https://www.instagram.com/durhamexecutivegroup/
LinkedIn: https://www.linkedin.com/in/durhamexecutivegroup
Twitter: https://twitter.com/group_durham