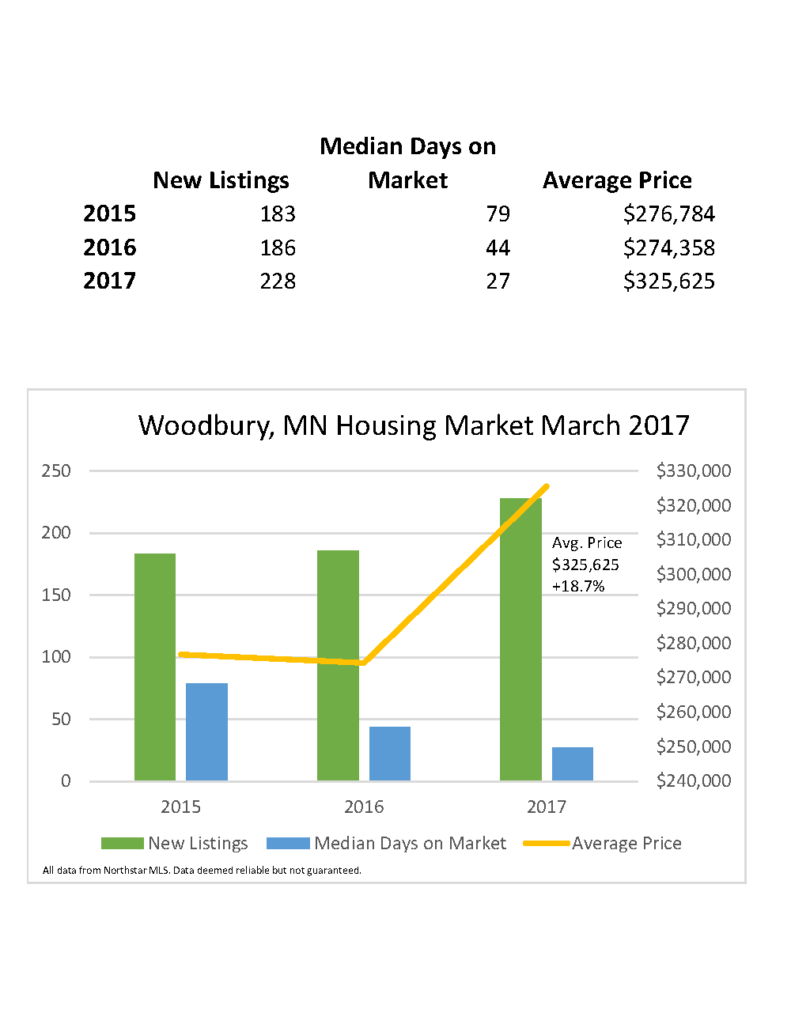 Woodbury, MN home prices increased 18.7% in March 2017 over the previous year. Demand for these homes is high. A limited number of homes for sale in Woodbury is driving prices up, up, up! And they are selling fast, fast, fast!
While the number of new listings has increased over last year, it's not enough to satisfy pent up demand as millennials begin to enter the market. Homes priced under $330,000 are selling especially fast as these same buyers don't want to over extend themselves with a mortgage they can't afford.
As you can see from the graph above, the median days on the market is 27 days. Keep in mind that this number does not reflect the actual number of days a home was on the market before an offer was received, but rather until the home went into pending status after an inspection clause was removed and a closing date set. In reality, homes under $330,000 are selling in just a few days, especially when they are well staged, updated, clean, and on a quiet street.
What this data means to Woodbury, MN home sellers
Stage it beautifully, price it RIGHT. If you are seller, you need an agent who can advise you on how to get the most money out of your home. There is a lot of opportunity to get a better price, but you want to make sure you aren't wasting money on unnecessary updates or missing the mark with wonky staging choices. Becky Durham is an accredited home stager, and John Durham has a degree in home construction. Together, they are uniquely qualified to help you get the most money possible in the sale of your home in today's market. (They have handy men and contractors they recommend, if needed.) The caution here is that you have to make sure your house will appraise for the price you are asking. Appraiser's are often a bit behind the times with regard to seasonal home prices and banks are still edgy about inflated home prices after the housing bubble broke a decade ago. At the end of the day, if a bank won't write a mortgage for your asking price, you likely won't be able to sell it. John and Becky know the Woodbury home market and can help you price your home right for today's market. Click HERE to learn what your Woodbury home is worth in today's market.
What this data means to Woodbury, MN home buyers
You need to be ready so you can ACT FAST. You need to get your finances in order and get pre-approved for a mortgage before you begin your home search. There's very little wiggle room here. If you are not ready with a pre-approval letter, a seller may reject your offer and go with a buyer who is ready (we have a lender we trust if you need a lender.) If you have a home to sell, get that ready to go on the market. Ideally, you want to have an offer in hand on your current home before looking for a new home. Sellers are often rejecting offers contingent on the sale of a current home, giving preference to buyers who can commit to the transaction.
You also need a Woodbury buyer agent who knows the market and can help you find the right home in the right neighborhood, and make sure you don't overpay for it. And most important, you need a realtor who can show you homes right away and help you write a strong offer when you find the right home. At www.DurhamExecutiveGroup.com, you can sign up to receive alerts the instant a home that meets your search criteria hits the market in Woodbury. Just let John and Becky know which ones you want to see, and they'll schedule a showing for you right away. If you fall in love with it, they will help you write an offer that will get accepted and guide you through the inspection and title search process through to a successful close, with keys in hand!