Troy Burne Golf Village in Hudson, WI Local Real Estate Market Update – December 2019 vs. December 2018
What does this Hudson WI Real Estate Market Data Mean for Troy Burne Golf Village?
The market is looking good for homeowners who want to sell their Troy Burne Golf Village homes in Hudson, WI. Get all the news here with John Durham's most recent Troy Burne real estate market update:
Troy Burne Home Sellers:
If you are considering listing your Troy Burne – Hudson WI home for sale, you need a skilled and experienced Realtor who will price it right. Asking too little will leave money on the table. Asking too much means your house may linger while other homes sell. Another concern many sellers don't think of is if you get a high offer, your home may not appraise for the offered price. Your buyer's bank may not write a loan if they think your home is not worth the price your buyers want to pay for it – that's what caused the real estate market crash a decade ago, so banks are cautious these days. Upper bracket homes are spending more time on the market and require an agent with more skill, experience, and technology. John is a Certified Luxury Home Marketing Specialist and Becky is an accredited home stager, offering their expertise in these areas to all their clients at no extra fee. We do more!
Troy Burne Home Buyers:
If you are a home buyer in Troy Burne – Hudson, WI, you need a buyer's agent who is available to show you homes the day they hit the market, and can help you submit an offer that gets accepted. Click HERE to search the MLS for homes and sign up for instant email alerts when a home that meets your desired criteria hits the market. When you see a home you like, let John and Becky know and they will schedule a showing for you!
Why should you choose John and Becky Durham as your Troy Burne Golf Village Realtors?
As your neighbors, John and Becky have lived in Troy Burne Golf Village for 10-years and have gotten to know many of you in the area. As licensed Realtors®, they are intimately knowledgeable about the development, the HOA, and what the development and community have to offer. As a result, Durham Executive Group is uniquely able to sell the development to buyers and why it is such a wonderful place to call home!
Because they live in the neighborhood, John and Becky offer services other real estate agents cannot provide. First, we are the only Realtors® in Western WI who live and work in the Hudson and Troy Burne Golf Village who specialize in luxury real estate marketing with the Certified Luxury Home Marketing Specialization (CLHMS™). Because of their proximity to our Troy Burne Golf Village listings, the team can provide services above and beyond what other agents provide.
Looking for even more info? We offer FREE Monthly Market Reports!
Sign up here for FREE monthly market reports delivered directly to your inbox and stay on top of changes in the Hudson, WI real estate market. Check the box(es) for specific areas you are interested in.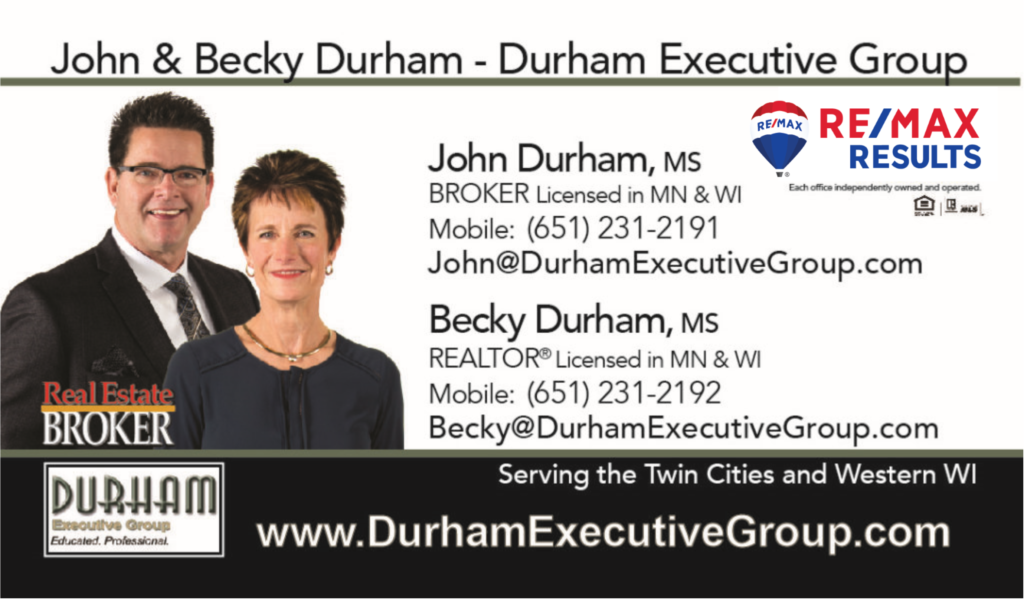 Email Us Today: john@durhamexecutivegroup.com
Website: www.durhamexecutivegroup.com
Phone: (651) 231-2191
———-
Follow Us!
Facebook: https://www.facebook.com/DurhamExecutiveGroup/
Instagram: https://www.instagram.com/durhamexecutivegroup/
LinkedIn: https://www.linkedin.com/in/durhamexecutivegroup
Twitter: https://twitter.com/group_durham