John and Becky Durham of the Durham Executive Group-RE/MAX Results helped Dana downsize and purchase her dream retirement house in quaint Lake Elmo, MN. John is a licensed MN Broker. Becky and John lived within a few miles of Lake Elmo, MN for years allowing them to be very familiar with the area, as well as with the Hans Hagen/MI Custom Home Builders development in Lake Elmo.
Dana wanted to right-size her family home and simplify her lifestyle to enjoy more time with family/friends and pursue favorite activities and leisure time. Her new home perfectly matches her needs with a main floor master bedroom with all main floor living facilities. Lake Elmo, MN provides easy access to Woodbury MN shopping and a short commute to the Twin Cities. Looking for a property for sale that might be coming soon in the Lake Elmo and Woodbury communities, contact John & Becky Durham.
Home Owner's Association
There is a Home Owner Association with monthly dues with amenities such as snow removal, lawn care, outside maintenance, building exterior along with professional management.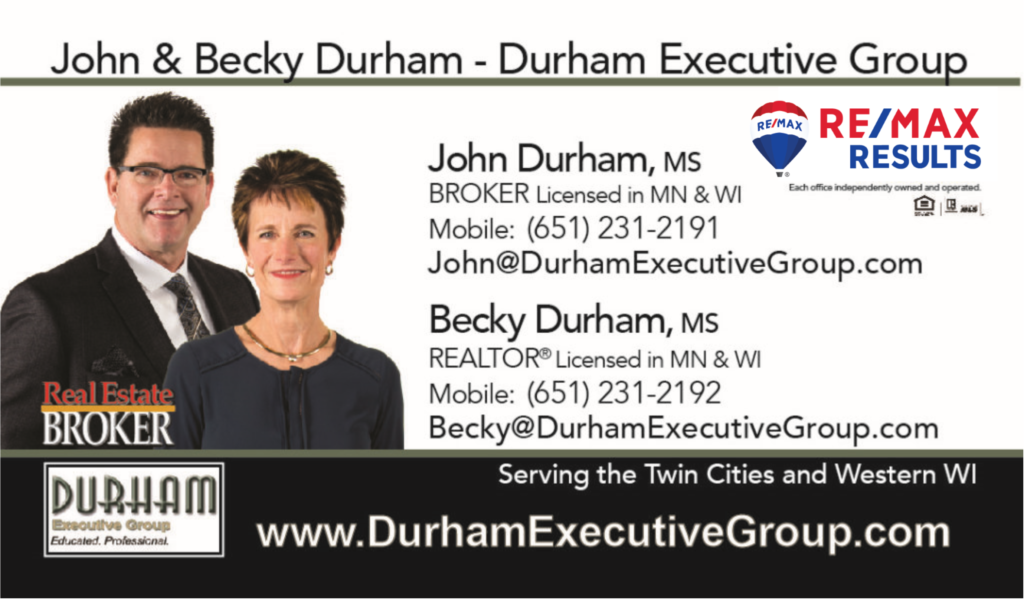 Want to simplify your life? If this is your goal, but not sure how or where to start? Want to know your options and how much you can save monthly by right-sizing your home? John and Becky Durham specialize working with baby boomers, seniors and their adult children both in selling and buying homes in Eastern MN, as well as Western WI. Both Becky and John are certified SRES (Senior Real Estate Specialists) with more than a combined 35-years of real estate experience. They are your trusted, top-selling RE/MAX REALTORS® in the St. Croix River Valley area. If you would like to explore how to sell or search for a new opportunity to move to the St. Croix River Valley area contact John and Becky!
Durham Executive Group
Email Us Today: john@durhamexecutivegroup.com
Website: www.durhamexecutivegroup.com
Phone: (651) 231-2191
———-
Follow Us!
Facebook: https://www.facebook.com/DurhamExecutiveGroup/
Instagram: https://www.instagram.com/durhamexecutivegroup/
LinkedIn: https://www.linkedin.com/in/durhamexecutivegroup
Twitter: https://twitter.com/group_durham
Pinterest: https://www.pinterest.com/durhamgroup/