John and Becky Durham offer FREE real estate classes for active baby boomers, seniors and their families to help ease the stress of downsizing in the East Twin Cities and Western Wisconsin areas. Classes are offered in the Woodbury, MN and/or Hudson, WI RE/MAX Results offices.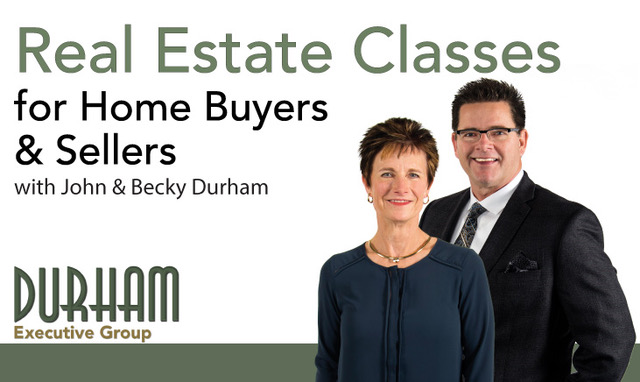 The decision to sell your family home can prove to be an emotional and stressful time for both seniors and their adult children. With so many things to think about, the process can be emotionally taxing. Seniors and their families are often overwhelmed by the many decisions to be made in the process. In our free real estate classes, we offer insight into:
How to get the best price for your home
The home selling process
Local services & resources available to help with downsizing
Choosing the right living situation that meets your needs and budget now and in the future
Active lifestyle options for baby boomers
Enjoy these FREE real estate classes, open to the public each month!
Pre-registration is required by calling 651-231-2191. See the class titles below for full class description and schedule.
Seniors Transitioning to Their Next Home
This class is for both senior adults and their adult children as they consider housing options. It includes information on: senior housing options in Hudson, WI and the services they provide; the process of downsizing & moving for seniors; preparing a home for today's real estate market; getting the most money in the sale of your current home; and professional support services for moving seniors and their families in Hudson and surrounding area.
2nd Tuesday of Every Month: Noon – 1:30 pm (Hudson RE/MAX Results Office)
Baby Boomers – 'Rightsizing' Your Home for Your New Lifestyle
"Rightsizing" means moving to a home that fits, both financially, location, and size, so you can live the lifestyle you've dreamed of. It includes information on: determining if now is the right time to sell your home; how to obtain the best sale price for your home in today's market; options for purchasing your next home (condo, townhome, single-family, lake home, new construction, main level living, etc.); whether to start looking prior to selling or after you sell your home; and the home options for active older adults in Hudson, WI as well as the surrounding area on both sides of the St. Croix River.
2nd Sunday of Every Month: 1:00 pm – 2:00 pm (Hudson RE/MAX Results Office)
John Durham has an education degree; coupled with extensive training as a licensed real estate broker in both WI and MN, and feels it is imperative the public is made aware of the apparent practices of iBuyer programs. By doing so, he hopes to educate the public and then let them make their own informed decision on what is best for the sale of their home.
2nd Tuesday of Every Month: 6:00 pm to 8:00 pm (Hudson RE/MAX Results Office)
3rd Tuesday of Every Month: 6:00 pm to 8:00 pm (Woodbury RE/MAX Results)
* These classes are offered to consumers only and are not available for real estate professionals or loan officers.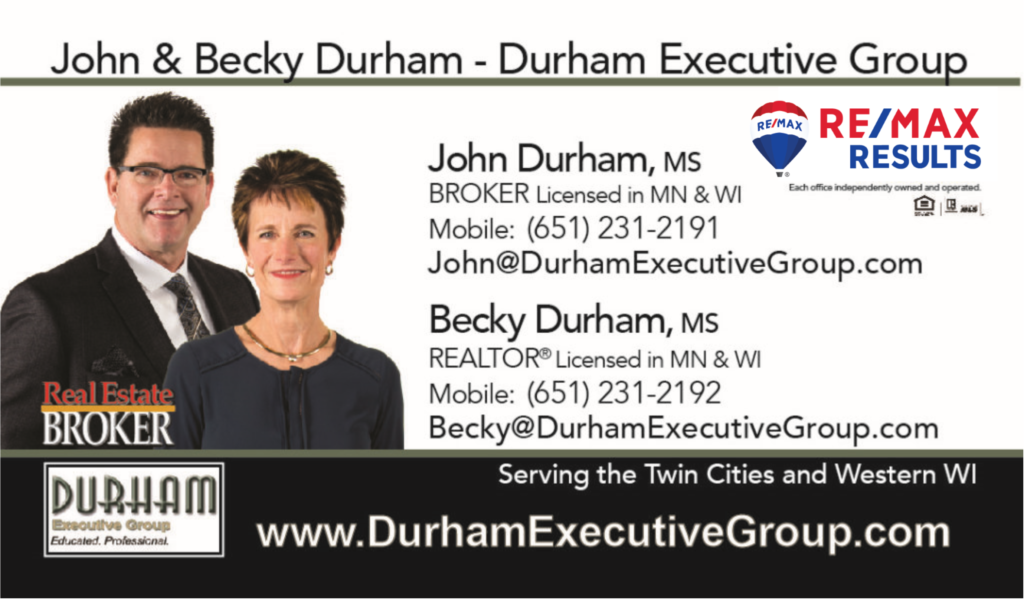 About John and Becky Durham:
John Durham is a Certified Luxury Home Marketing Specialist®, with advanced training and demonstrated success in marketing and selling luxury properties. John is a licensed real estate BROKER in both MN & WI, with training and experience far beyond that of a REALTOR®.
Becky Durham is a certified Seniors Real Estate Specialist® with advanced training and experience assisting seniors and their families as they transition to senior housing options. Becky is a licensed REALTOR® in both MN & WI and is also an Accredited Staging Professional®.
Both John and Becky are experienced educators, holding Bachelor of Science degrees in Education. Both continued on to receive Master's degrees. As a result, Becky worked in education for many years. John worked as an executive and trainer in business and industry prior to entering the residential real estate industry. They love to work with home buyers and sellers in all price points and stages of life, from first time home buyers to downsizing baby boomers and seniors. John and Becky enjoy serving the community by offering their real estate expertise in the form of these FREE real estate classes.
Twitter: https://twitter.com/group_durham