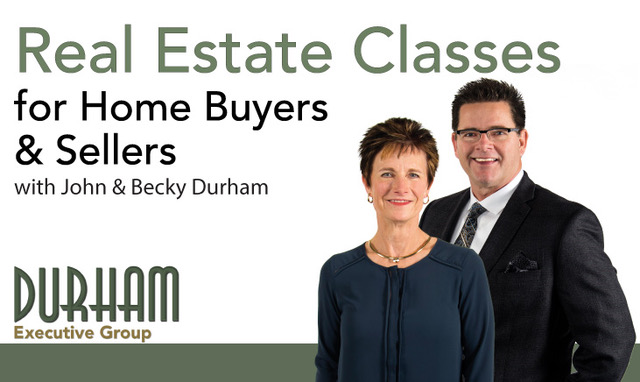 First Time Buyers & the Move-Up Buyer
Today's real estate market Hudson WI and River Falls WI and surrounding areas is very competitive. With home inventories at record low levels, home buyers are frequently finding themselves in multiple offer situations. Buyers are often asked to move quickly without adequate time to think or find out more information about a home. Whether you are a first time home buyer, or movin' on up, you will need to know how to navigate through the Hudson, WI and River Falls, WI real estate market. And yes, things have changed in the last few years, so if you have purchased a home in the past, our home buying class in Hudson, WI will be perfect for you to get updates on the home buying process today. John and Becky Durham, REMAX Results agents in Hudson, WI are delighted to bring this information to you!
Knowledge is Power for home buyers in today's real estate market. This course will focus on financial aspects of purchasing a home and the home buying process. Our home buyer class will discuss:
Home buying process in Wisconsin explained, from pre-approval to close
Obtaining a mortgage (selecting a lender, working with a loan officer, paperwork & documentation required, mortgage pre-approval letters)
Down Payment Assistance and loan programs available
The true cost of home ownership (closing costs, principal, interest, taxes, insurance, assessments, maintenance, etc.)
Setting up a search criteria for your dream home
Home showings, finding YOUR home, making a strong offer (without paying too much!)
Purchase agreements, inspections, appraisals, home warranties, title search, earnest money, 3-day waiting period
Pitfalls, red flags, and warning signs to watch for
How to choose the right real estate agent to represent you (and why you NEED a good agent!)
If we have time at the end of the class, we can talk about the current real estate market in your desired community
Cost: FREE!
When: Tuesday, November 28th, 6:30 pm – 7:45 pm
Where: RE/MAX Results in Hudson, WI – 375 Stageline Rd., Ste 200, Hudson WI 54016
This real estate class is offered FREE! When you take our classes, there is no obligation to use our real estate services (although we would be delighted to represent you in your real estate transaction.)
John Durham holds a master's degree, is a licensed real estate BROKER in MN & WI. Becky Durham holds a master's degree, is a licensed REALTOR® in MN & WI. Together, they ave over 29 combined years of real estate experience in Woodbury and Stillwater in MN, and Hudson and River Falls in WI.