Welcome to Carmichael Ridge and one-level living!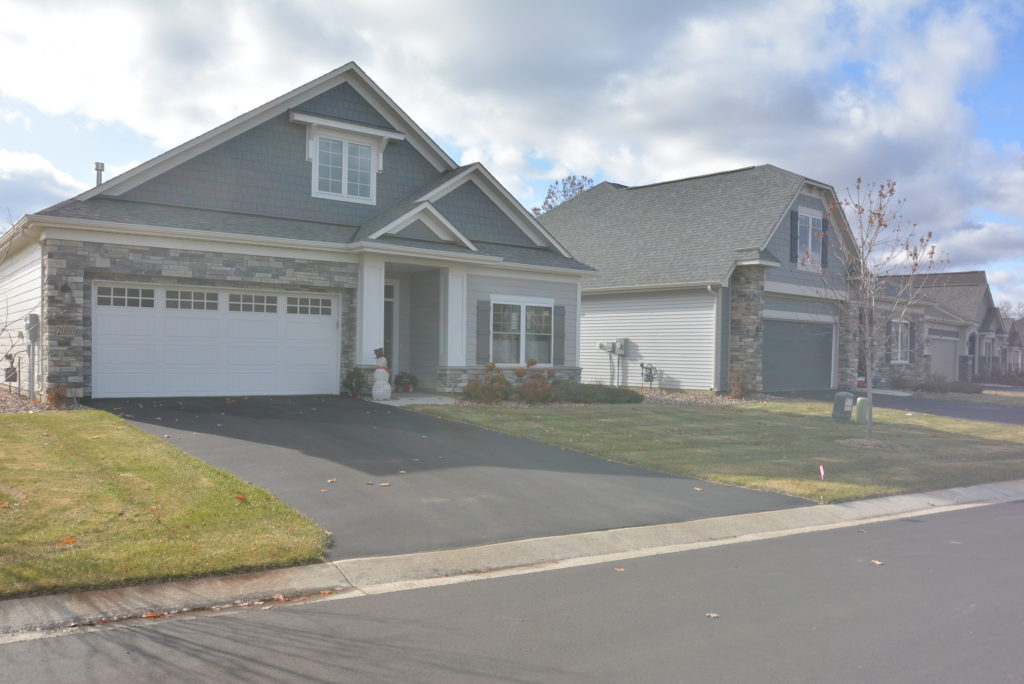 Carmichael Ridge is a community of detached villa style homes, twin-homes, and single-family homes off of Exit 2 in Hudson, WI. Photo by Durham Executive Group
Are you contemplating 'right-sizing' your home freeing up hours and hours of personal time each week to finally enjoy all those activities you always contemplated doing? Otherwise, maybe you simply want to save thousands of dollars every year by reasonably downsizing your home? Regardless of your reasons for downsizing now is the perfect time to reach out to the highly respected Hudson WI Realtors® John and Becky Durham of the Durham Executive Group – RE/MAX Results who specialize working with those who want to sell their family home and purchase a 'right-sized' home.
John and Becky Durham specialize working with baby boomers, seniors and their adult children both in selling and buying homes in Carmichael Ridge, and/or anywhere throughout Hudson WI and Western WI. Both Becky and John are certified SRES (Senior Real Estate Specialists) with more than a combined 35-years of real estate experience. Want to avoid multiple offer situations? John and Becky with their vast real estate experience combined with knowing the people of Hudson WI ultimately know before most when one-level main floor properties are 'coming soon.'
If you are unfamiliar with the Hudson WI and St. Croix River Valley (on either the WI side of the river or the MN side of the river) look no further for Realtors® who are licensed in both WI and MN. John and Becky have lived on both sides of the river in multiple communities enjoying what the St. Croix River Valley has to offer. Maybe you are looking for a short commute to the Twin Cities of St. Paul/Minneapolis for work or maybe you simply want to enjoy all the amenities the Twin Cities offer while living in a small river town.
The Carmichael Ridge development consists of single family homes, detached villas style homes, and twin homes. Hans Hagen Custom Homes started the development and eventually it was purchased by M/I Homes who finished the development. The development has a Home Owners Association of less than $200/month that includes snow removal, lawn care, and professional management. The Carmichael Ridge development consists of scenic walking paths and is within walking distance of a Target store, a shopping strip mall, a health food grocery store, and restaurants such as Culver's and Applebee's. The I-94 interstate access ramp is less than one minute by car while the Hudson Hospital and Clinic is less than two minutes away.
With one-level living, open main floor plans Carmichael Ridge presents ease of movement throughout the homes particularly should mobility issues ever become a problem. Baby boomers, seniors, and the adult children of the aging population are planning ahead and actively seeking out one-level living making this a very popular trend. Downsizing your home while you are in control is a major accomplishment towards planning for the future. By downsizing and choosing a one-story main floor living home, you are afforded opportunities multi-level homes cannot offer. The decision to downsize is financially cost effective as you will achieve a reduction in property taxes, homeowner's insurance, reduced utilities and maintenance costs when totaled will save you thousands of dollars annually. You will find even the mundane task of cleaning your home will be easier when right-sizing to a one-level home allowing you significantly more time to enjoy the activities you always wanted to engage in.
Want to simplify your life? If this is your goal, but not sure how or where to start? John and Becky Durham are certified SRES (Senior Real Estate Specialists) with more than a combined 35-years of real estate experience who specialize working with baby boomers, seniors and their adult children. They are active in the community volunteering on many organizations whether the Hudson Hospital Board, or the Hudson WI Chamber of Commerce. They are your trusted, top-selling RE/MAX REALTORS® in Hudson, WI. As your neighbors, they live, work and enjoy the entertainment of what Hudson and the St. Croix River Valley area offers. John and Becky are experts and knowledgeable in new construction, as well know where various open floor main-floor living developments are throughout Hudson WI.
If you would like to explore selling your family home or search for a new opportunity in Hudson WI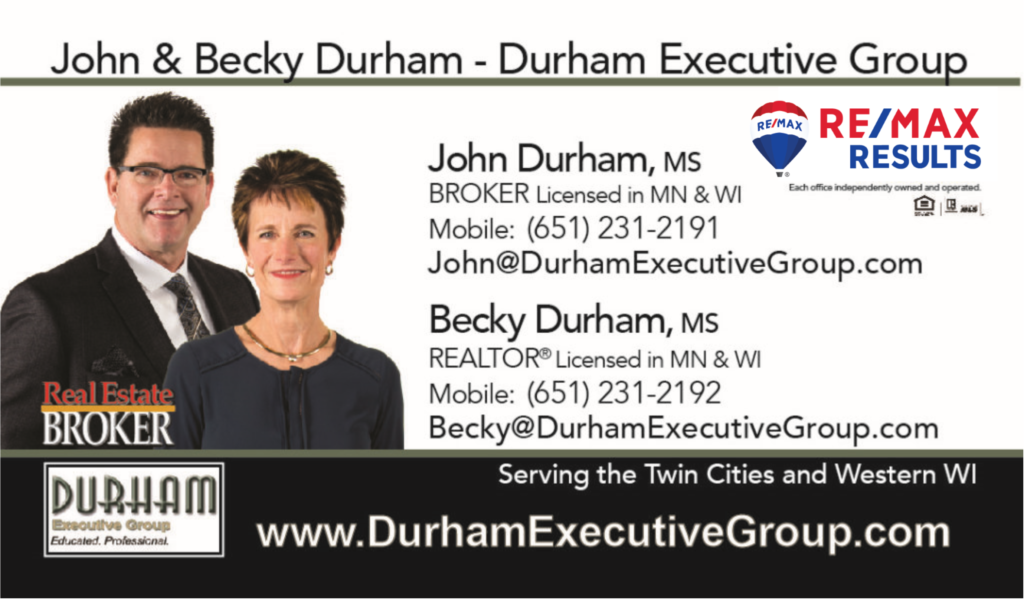 Durham Executive Group
Email Us Today: john@durhamexecutivegroup.com
Website: www.durhamexecutivegroup.com
Phone: (651) 231-2191
———-
Follow Us!
Facebook: https://www.facebook.com/DurhamExecutiveGroup/
Instagram: https://www.instagram.com/durhamexecutivegroup/
LinkedIn: https://www.linkedin.com/in/durhamexecutivegroup
Twitter: https://twitter.com/group_durham
Pinterest: https://www.pinterest.com/durhamgroup/