Hudson Hospital Gratitude Wall Unveiling Ceremony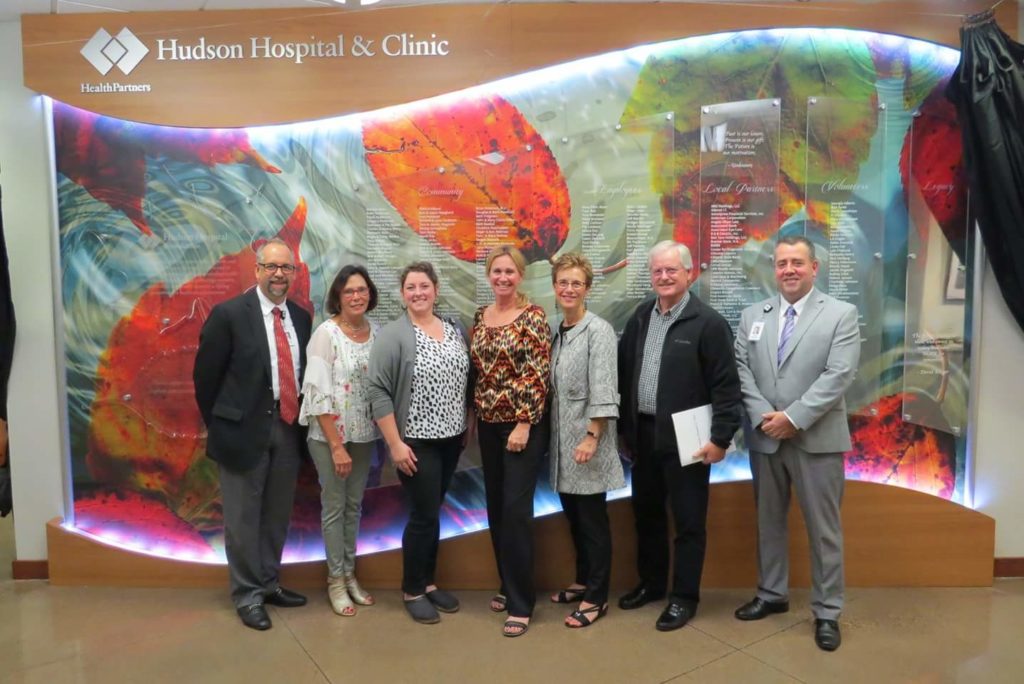 (Hudson, Wisconsin) Becky Durham attended the Hudson Hospital and Clinic's Gratitude wall unveiling on Wednesday, Sept. 19, 2018. The wall was commissioned to be a part of the Hudson Hospital and Clinic's Healing Arts Program to recognize community members, staff and volunteers.
The wall is displayed in the main hallway to be a central focus for those visiting the facility and recognize those who contribute in many ways. The wall was designed to show the dynamic force behind the healing environment and the color red brings energy into the hospital environment. A ceremony and reception were held at the hospital during World Gratitude Week recognition week. Over 50 attendees were treated to the Hospital Chef's appetizers and beverage selection.
Becky Durham, Realtor with Durham Executive Group-RE/MAX Results in Hudson, WI is a Hudson Foundation Board Member, Hudson Hospital Board Member, sits on the Credentialing Committee. Additionally, Becky volunteers in a variety of capacities for the hospital including the Red Cross blood drive and Big Brother Big Sister family education classes. Her name is proudly displayed on the Gratitude Wall as an active member of the Hudson Hospital and Clinic community. She is photo'd at the unveiling with other board members and the Hudson Hospital Foundation President, Kari Rambo and the Hudson Hospital President, Tom Borowski.
For anyone moving to the area in need of medical care the Hudson Hospital and Clinic provide care for the whole family. The specialty wing offers services in an array of areas all under one roof. Any resident looking for ways to become involved in the community and be a part of the Hudson Hospital the Volunteer Coordinator is a first point of contact. A wide variety of volunteer opportunities are available based on skill set, interest areas and hours.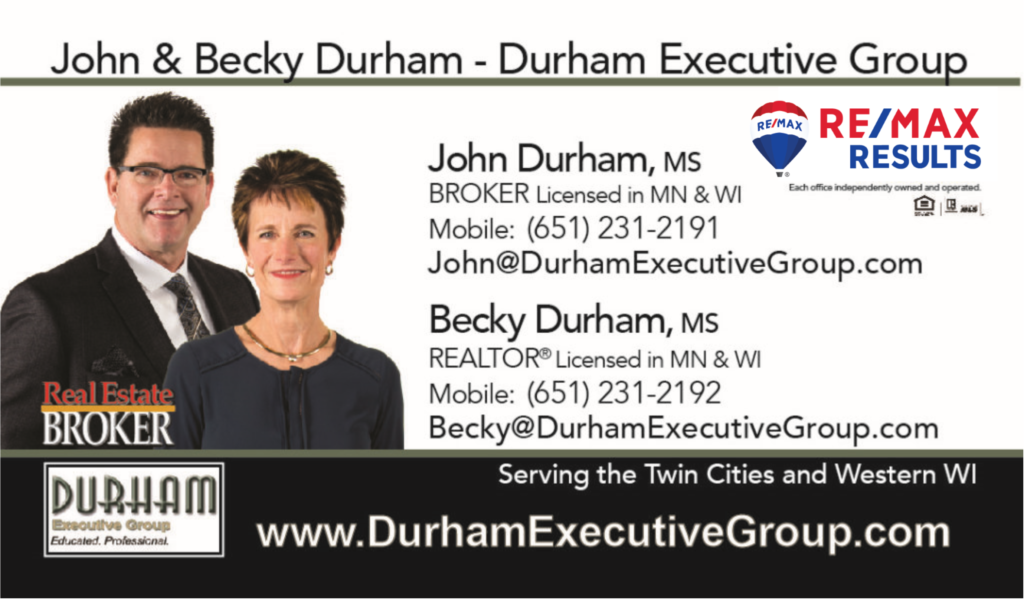 Becky, along with her husband John Durham, both with the Durham Executive Group are top-selling REMAX REALTORS® and office in Hudson, WI. They live, work and play in Western Wisconsin and would love to show you what makes this area such a wonderful place to live. If you'd like to search for homes, please contact John and Becky Durham or use our MLS search function. We would be happy to schedule a showing for you, your friends, and family who may be considering a move to the area!
———-
Durham Executive Group
Email Us Today: john@durhamexecutivegroup.com
Website: www.durhamexecutivegroup.com
Phone: (651) 231-2191
———-
Follow Us!
Facebook: https://www.facebook.com/DurhamExecutiveGroup/
Instagram: https://www.instagram.com/durhamexecutivegroup/
LinkedIn: https://www.linkedin.com/in/durhamexecutivegroup
Twitter: https://twitter.com/group_durham