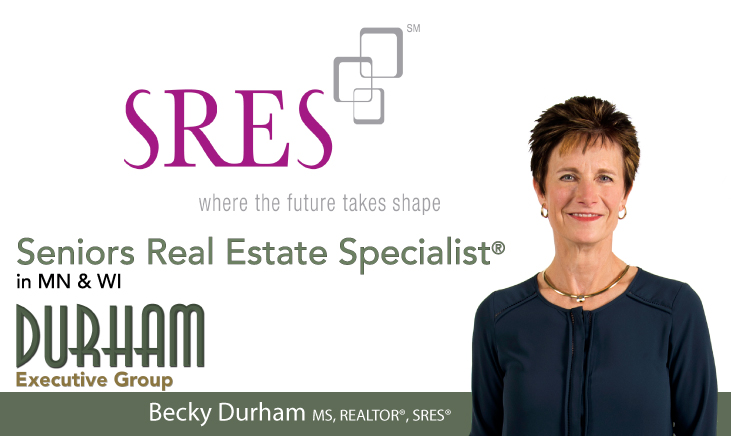 Becky Durham is an accredited Seniors Real Estate Specialist® (SRES), with advanced training and experience working with seniors and their adult children as they transition to assisted living in Hudson, WI.
It can be an emotional and stressful time for a family when they realize that aging parents are no longer able to remain independent in their homes. For seniors, it's scary to think about leaving the home they love. Downsizing a lifetime of cherished belongings adds another stressor to families as they consider the senior living options in Hudson, WI. Finding the right home and services can be a challenge.
Becky understands what you are going through. She's been there, having assisted her own parents in their transition to a home that is a better fit for them now and in the future. Maybe it's her many years working as a counselor, but Becky truly enjoys working with seniors, listening to their stories, and helping them transition to a new home the meets their needs, yet feels like home.
You can count on Becky Durham to help. Becky is familiar with Hudson, WI assisted living, independent living, and memory care facilities and can help you identify the right fit, and then help you prepare the current home for market. Of course, getting the best price is of key concern. Becky can help you identify necessary updates and repairs and connect you with qualified, skilled and affordable contractors, if necessary. She is a Accredited Staging Professional and will assist you in the staging of the home, as research shows that an updated and well staged home sells for more money.
The Seniors Real Estate Specialist® designation was designed by the National Association of Realtors® (NAR) to help real estate agents focus on the needs of clients aged 55+. To earn the SRES® designation, agents must complete rigorous coursework on topics including: distinguishing characteristics and trends related to the 50+ population; housing, finance, and retirement income considerations of these consumers; outreach methods for building 50+ clientele; and counseling strategies to help clients and customers plan ahead for life transitions. and pass a comprehensive exam.
With her background as a professional counselor, as well as expertise in the local real estate market and senior housing options, Becky is uniquely qualified to guide seniors and their families through what can often be a difficult time. After all, the most important thing is for a senior's housing and care needs to be met.
Becky would be delighted to meet with you and tell you more about her services as a Seniors Real Estate Specialist®. Contact Becky Durham today!
Watch our video to learn more about downsizing in Hudson, WI
Email Us Today: john@durhamexecutivegroup.com
Website: www.durhamexecutivegroup.com
Phone: (651) 231-2191
———-
Follow Us!
Facebook: https://www.facebook.com/DurhamExecutiveGroup/
Google+: https://plus.google.com/u/0/b/107940304390027539731/107940304390027539731
Instagram: https://www.instagram.com/durhamexecutivegroup/
LinkedIn: https://www.linkedin.com/in/durhamexecutivegroup