Connecting Boomers, Seniors, and Caregivers with Local Resources and Services to Live Vibrantly!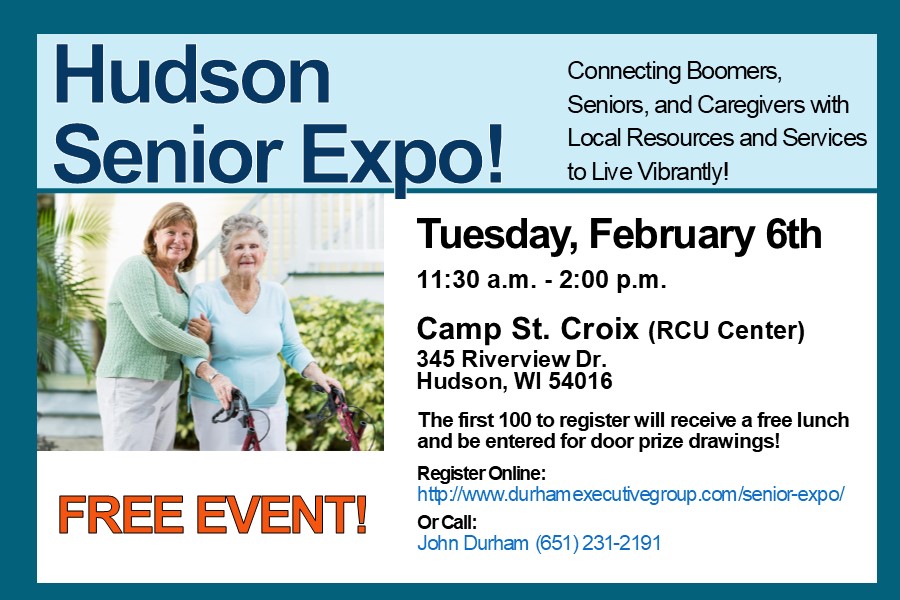 An exciting array of services and resources for seniors to live independently or with assistance in Hudson and St. Croix County.
At the first annual Hudson Senior Expo, you'll find service providers and resources in our Hudson community that focus on helping seniors age in place in the family home, or transition to senior housing. Hear four (4) presentations on a variety of topics important to Hudson's senior community and meet one on one with representatives from senior housing, healthcare and wellness providers, finance and estate planning, real estate and moving professionals, and more!
THE FIRST 100 PEOPLE TO PRE-REGISTER WILL RECEIVE A FREE LUNCH AND BE ENTERED FOR DOOR PRIZE DRAWINGS!
This is a FREE event. We encourage you to pre-register. Register online or register by phone by calling John Durham at (651) 231-2191.
Sponsored by:
Presentations: (11:30-12:30)
Exhibitors:
Senior Housing
Christian Community Homes and Services
Red Cedar Canyon Senior Living Community
Healthcare & Wellness
Hudson Hospital & Health Partners Specialty Clinic
Velocity Physical Therapy & Wellness
Aging in Place Services, Moving, & Real Estate
Aging & Disability Resource Center of St. Croix County
John & Becky Durham RE/MAX Results
Financial & Estate Planning, Insurance
Eckberg Lammers Attorneys at Law
Principal Preservation Services
We invite all businesses and non-profits that serve the senior and 55+ community in St. Croix County to become exhibitors at the Hudson Senior Expo!