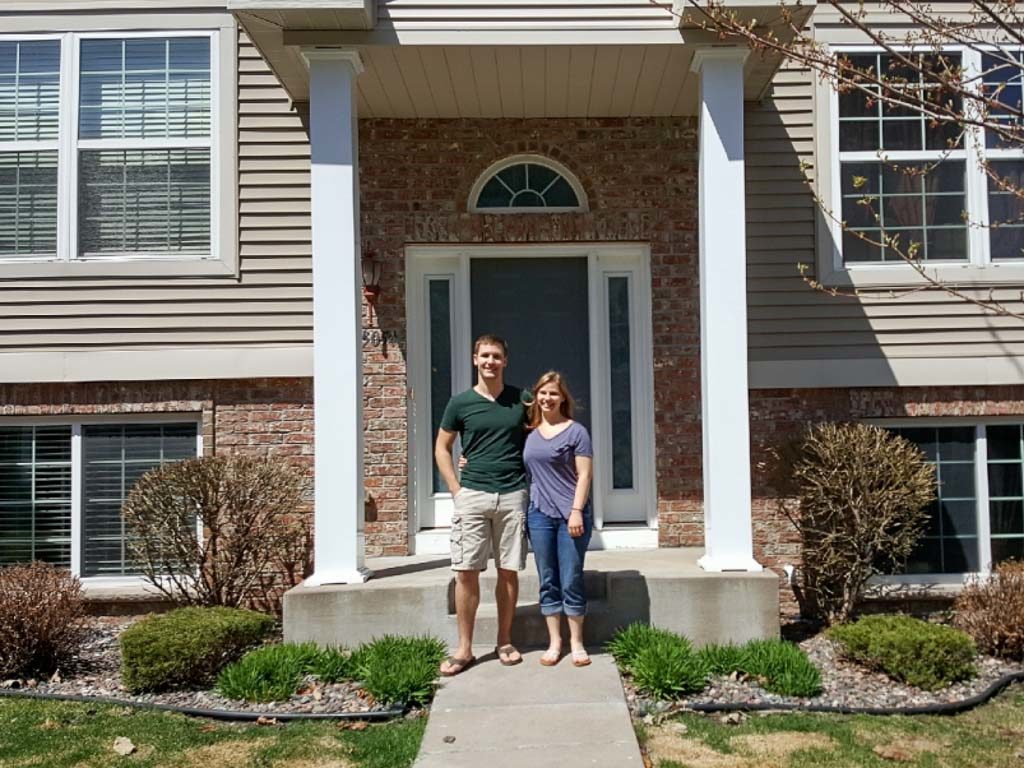 First Time Home Buyers in St. Paul, MN Suburbs
It's a crazy real estate market in suburban St. Paul, MN. Stephanie, our first time home buyer client, found herself in a very competitive Twin Cities housing market. She was looking for a town home in Hugo, MN. She wanted to find a town home with:
3 Bedrooms
2+ Bathrooms
Great Kitchen
Fireplace
Lots of Natural Light
But we ran into a big problem.
There were very few homes to buy, and new listings were selling quickly with multiple offer situations. A few statistics about the Hugo, MN real estate market for April 2018:
Number of Homes on the Market – down 16.5% .
Monthly Supply of Homes – down 23.1% to 2 months.
Days on the Market – down 31.3% to 22 Days
Keep in mind agents often don't take a home off the market until after the appraisal and inspection process and all contingencies are removed, which can take 2-3 weeks or more. This means that if a home is on the market for 22 Days, it was probably on the market for only a few days before an offer was accepted, triggering the appraisal and inspection process.
We are very clearly in a sellers housing market in Hugo, with too few listings with more buyers than homes available.We are seeing similar statistics in communities throughout the Twin Cities real estate market. First time home buyers need to be prepared for a competitive market.
Here are some tips to make buying your first home a smooth process:
Get a Really Great Realtor: John and Becky have over 30 combined years of experience in real estate and enjoy working with first time home buyers. As a husband and wife team, they work together with every client, so you know they are always available and ready to help you. And their services don't cost you a thing. The home seller usually pays the commission and fees. Also, John is a real estate BROKER, with advanced training beyond that of a REALTOR, so you can be confident in his negotiating strategies and creative problem solving. They are also experienced and trained counselors and teachers, taking an educational approach with you, guiding you every step of the way.
Get Pre-Approved for a Mortgage: This is critical. Sellers often won't even look at an offer that doesn't include a pre-approval letter. John and Becky have a few trusted mortgage specialists to whom they can refer you. They are experienced with first time buyer programs and may be able to find a down payment assistance program or closing cost assistance! (You may use any mortgage supplier you choose. We receive no compensation from the mortgage brokers to whom we refer. That's illegal. We have simply learned that some mortgage brokers provide better service, and we choose to work them again and again because we can rely on them to serve our clients with integrity and skill.)
Create a Wish List for Your First Home: This can include any number of home features. Your list should include your top 3 or 4 items you will not settle on. But you also must understand that it's rare for a first time buyer to get everything on their list. Some key decisions to make before you start looking for homes are:
Home Type: Single Family, Town Home, Condo
Location: Community/Neighborhood, Transportation Access,
Size: Sq. Feet, # of Bedrooms/Baths, Garage stalls, Yard Size
Condition: New Construction, Updated & Move-in Ready, Some Projects, Major Remodel
Home Features Inside: i.e. Fireplace, One Level/2-Story, Laundry, Master Suite, Hardwood Floors, Granite, Stainless Steel Appliances, Natural Light,
Home Features Outside: Outdoor Space (Deck, Patio, Balcony, Yard) Sprinkler System, Open Space, Mature Trees, Off-street Parking, Quiet Street, Vinyl/Hardie Siding, Shared Amenities (Pool, Parks, Trails, Community Center)
Style of Home: Historic, Vintage, Mid-Century, Late Model, or New Construction
Be Ready to Move Fast! In today's Twin Cities real estate market, it's not unusual to see homes priced under $250,000 receive multiple offers the first day. In a seller's market, home buyers need to be prepared to see homes within 24 hours of list, and be prepared to decide quickly if they are going to submit an offer. Buyers must also be prepared for multiple offer situations – they will happen. If you are worried about this, don't be. John and Becky will do all the uncomfortable negotiating for you, insulating you from the stress of it. You can do this with John and Becky on your side! Sellers accept offers for a variety of reasons, and it's not always the higher price that wins the day. Consider what you can offer:
Higher Price
Quick Close/Longer Close
Financing Terms (sellers love bigger down payments and cash offers)
Fewer Contingencies
Does buying your first home make you nervous?
It's OK to admit it. Buying a home is the biggest investment most of us make in our lifetime. John and Becky are experienced and will coach you as you make your decisions and navigate through uncharted real estate waters.
Back to the story at the beginning of this blog post. Our buyer client overcame a multiple offer situations and submitted the accepted offer only to encounter home not appraising. This is happening quite often these days as home appraisers are conservative in their home valuations and banks are unwilling to write loans for homes that don't appraise for the sale price. (With homes in high demand, we don't see this problem going away anytime soon.) The home not appraising required further negotiation with the sellers, which became difficult at times, but we got her through it and helped secured their ideal town home. She's now settled and enjoying her lovely new home!