John and Becky Durham help buyers purchase retirement dream home in Red Cedar Canyon
John and Becky Durham of the Durham Executive Group-RE/MAX Results helped home buyers, Laurence and Katy relocate, downsize, and find their dream retirement house in the Red Cedar Canyon, Hudson, WI community. The Durham Executive Group are the Red Cedar Canyon community real estate experts consistently helping home buyers find and purchase homes in Red Cedar Canyon and sellers list and sell their homes. John and Becky specialize working with baby boomers and seniors meeting them at the Hudson Baby Boomers and Seniors Expo last November. Laurence and Katy wanted Realtors(R) who specialized working with retired couples uniquely understanding their property needs. John and Becky are both Certified Senior Real Estate Agents (SRES) specializing working with the aging population. As a result, John and Becky Durham in addition to being Realtors(R) are the sponsors and creators of the Hudson Baby Boomers and Seniors Expo that conveniently brings resources for the aging population and their adult children all under one-roof.
Why did buyers consider 90 Quail Circle in Red Cedar Canyon, Hudson WI? They wanted to right-size their family home and have a main floor master bedroom with a great view of the Red Cedar Canyon out the back of their home for relaxation purposes. Katy and Laurence also wanted a short commute to the Twin Cities of St. Paul/Minneapolis, MN in order to take advantage of Twin City athletic events, theater performances, and restaurants. The I-94 interstate access ramp is only one or two minutes by vehicle away, as well as numerous restaurants, grocery stores, and shopping. The neighborhood is located within walking distance from the Hudson hospital, and the community movie theater.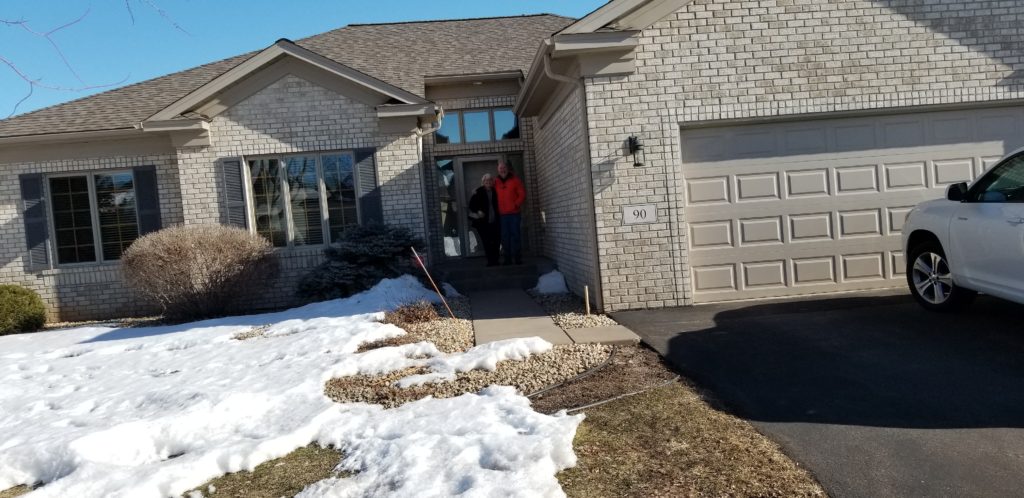 Recreational Facilities
Red Cedar common area facilities include basketball, volleyball, ball field, tennis, Pickleball, walking paths, and a gazebo overlooking the beautiful Red Cedar Canyon. Weitkamp Park, the city's newest park, is also located nearby within walking distance.
Home Owner's Association
There are a couple Home Owner Associations with monthly dues and depending on the type of home various amenities such as snow removal, lawn care, outside maintenance, building exterior along with professional management of the HOA was included.
Katy and Laurence welcome to Hudson, WI! You are wonderful additions to the community and we look forward to getting to know you better!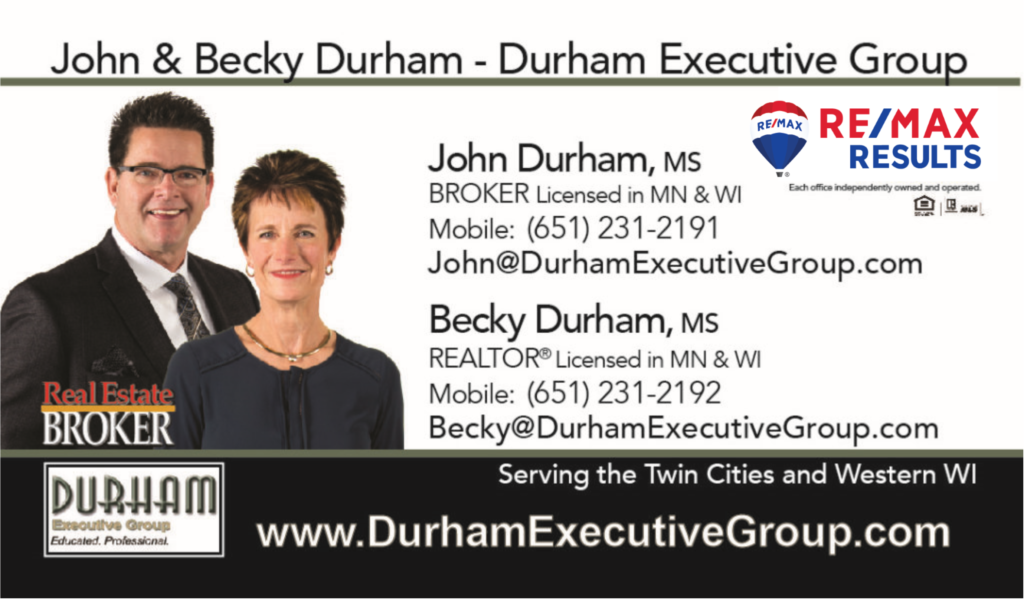 Want to simplify your life? If this is your goal, but not sure how or where to start? Want to know your options and how much you can save monthly by right-sizing your home? John and Becky Durham specialize working with baby boomers, seniors and their adult children both in selling and buying homes in Red Cedar Canyon, and throughout Hudson WI. Both Becky and John are certified SRES (Senior Real Estate Specialists) with more than a combined 35-years of real estate experience. They are active in the community volunteering on many organizations whether the Hudson Hospital Board, or the Hudson WI Chamber of Commerce. They are your trusted, top-selling RE/MAX REALTORS® in Hudson, WI. As your neighbors, they live, work and enjoy the entertainment of what Hudson and the St. Croix River Valley area offers. John and Becky are experts and knowledgeable in the various open concept, main-floor living developments in Hudson, along with the entertainment venues, local businesses, and communities. If you would like to explore how to sell or search for a new opportunity to move to Hudson or from the St. Croix River Valley, contact John and Becky!
Durham Executive Group
Email Us Today: john@durhamexecutivegroup.com
Website: www.durhamexecutivegroup.com
Phone: (651) 231-2191
———-
Follow Us!
Facebook: https://www.facebook.com/DurhamExecutiveGroup/
Instagram: https://www.instagram.com/durhamexecutivegroup/
LinkedIn: https://www.linkedin.com/in/durhamexecutivegroup
Twitter: https://twitter.com/group_durham
Pinterest: https://www.pinterest.com/durhamgroup/